NEW! The Allergen Introduction Bundle (9 allergens included)
Did you know Australia has the highest rate of food allergies in the world?! Yep, it's true, That's why we've collaborated with our accredited doctor friends over at TasteBubs to create the perfect Allergen Introduction Bundle. Taking the fear, stress, and confusion out of introducing the top allergens to bub. This bundle includes our NEW Thai Prawn Puree (Contains Allergen: Shellfish Crustacean) & our NEW 'Catch of the Day' Sardine Puree (Contains Allergen: Fish) plus 2 of our best-selling blends!

And the best part, the TasteBubs Allergen Starter Pack! An Australian-first, easy 4-week cycle program to introduce the most common food allergens to your baby. Reduce the risk of food allergies with easy, regular and early introduction. Find 28 sachets containing the seven most common food allergens:

4x Almond Powder Sachets, 4x Cashew Powder Sachets, 4x Walnut Powder Sachets, 4x Peanut Powder Sachets, 4x Soy Powder Sachets, 4x Egg Powder Sachets

Other Top Allergens to introduce early: Dairy (Butter, Milk, etc.) + Wheat (Bread, Flour, etc.) found in common pantry items.

Regular price

Sale price

$120.00

Unit price

per
Questions? Head to our FAQ's around this NEW Bundle as well as introducing allergens when starting solids.
What's in the bundle...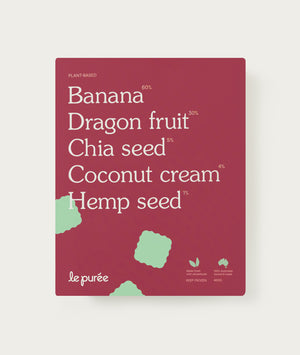 Banana Dragon Fruit Chia
banana, dragon fruit, chia seed, coconut cream, hemp seed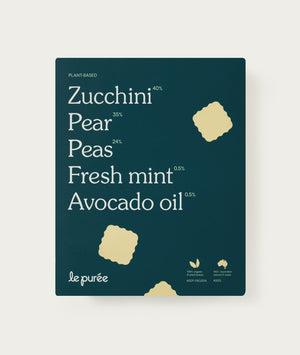 Zucchini, Pear, Peas
zucchini, flax-seed, kale, coconut-oil, apple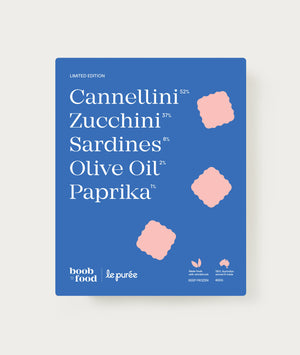 NEW! Catch of The Day Sardine Puree
Sardines, Canellini Beans, Zucchini, Olive Oil, Paprika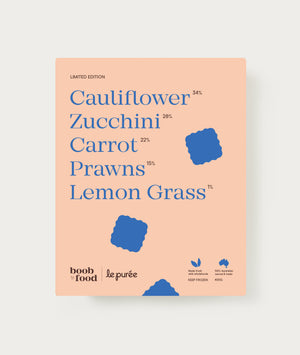 NEW! Thai Prawn Puree
Cauliflower, Zucchini, Carrot, Prawns, Lemon Grass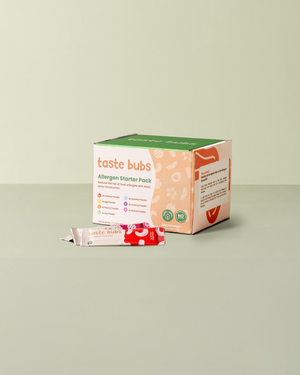 NEW! Taste Bubs Starter Pack (7 allergens included)
"We have spent over two years of research to create this revolutionary product to help your little ones get the best start in life"
— Dr. Rob McLeod and Dr. Mariam, Co-Founders of TasteBubs
Is there an order to which I should introduce the allergens in the box?
Yes! We recommend a different allergen each day of the week, then repeat that cycle. 
For example:
Monday peanut
Tuesday- cashew
Wednesday- soy
Thursday- walnut
Friday- egg
Saturday- sesame
Sunday- almond
What do I do if bub has a severe allergic reaction when doing allergen introduction?
Stop feeding to your baby and contact emergency services immediately.
Why is there 4 sachets of each allergen in the Taste Bubs Starter Pack?
We've done this for a purpose, for repeated exposure and to account for wastage of product.

How long after introducing an allergen should I look for a reaction?
Reactions can occur between a few minutes to 2 hours.
Should I introduce one type of allergen at a time (i.e. go through all 4 sachets of one type) before introducing another?
We recommend using a different sachet each day, rather than using the same allergen on consecutive days.
How old should bub be when I start the allergen introduction process?
Guidelines say You can introduce allergens as soon as your baby begins solids, so around 6 months of age- but not before 4 months.
Shellfish as an allergen 🍤
Shellfish come in two species - crustaceans and molluscs, and they need to be tested separately.

Crustaceans are your foods like prawns, shrimps, crabs and lobsters.

Molluscs are your foods like oysters and mussels.

What do I do if bub shows a mild reaction to an allergen? Should I continue with the rest of the sachets?
No, stop feeding your child immediately and seek medical advice. Stay with your child and monitor for signs of anaphylaxis. Call emergency services immediately.
How long will TasteBubs last on my shelf?
We currently have a shelf life of 1 year!
What time of day should I introduce an allergen?
We always recommend the morning, so you can keep an eye on your baby throughout the day incase of a reaction.
If bubs sibling or biological parent has a food allergy, is bub predisposed to having that allergy or any food allergy?
Unfortunately they are. We know that the risk of allergies is both genetic and environmental. So yes, if there are allergies in the family, the newest member of the family is at slightly higher risk. This makes it even more important to introduce the common allergens early to eliminate your baby's environmental risk of developing food allergies.
Should I use one satchet per day?
Yes, only use one sachet per day.
Why are the prawn & sardine puree only available in smooth texture?
We made the decision to only have smooth texture in our Sardine & Prawn purees due to the texture and consistency of these two ingredients. Safety is always our # 1 priority!
Still need help? View all our FAQ's or reach out at yourvillage@lepuree.com